Don't wait on repairing your gutters until your home is being damaged
We all know the importance of keeping your gutter system flowing properly, but more often than not, you don't make a call for repair on your gutters until you already have a problem.
There are many consequences when you do not maintain your gutter system. A disconnected downspout, crushed extension, or gutter pulling away from the fascia can quickly allow water to penetrate wood.
If your gutter systems does not work properly. the overflow, that will cause erosion of the lawn, landscaping, and foundation.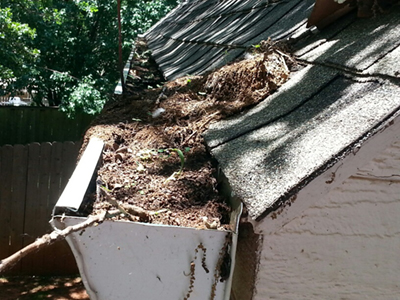 Schedule maintenance, repair, or cleaning by calling our office near you. Our staff will happy to set up an appointment.
Click here to find an office near you>>
If you would like to join our many satisfied customers enrolled in this program, please do not hesitate to give us a call. We will get you a proposal based on several factors, including the type and condition of your gutter system, size, and complexity. When you sign and return the proposal, we will contact you to schedule your first maintenance visit. You will be contacted before each recommended visit and will receive your invoice within a few business days of each visit. You can cancel the service at any time at no cost.